You are currently browsing articles tagged artista.
Un videoclip di una artista, e della sua band, che ritengo molto interessante, Amparanoia

Sito ufficiale
[ad#ad-1]





by

Tags: amparanoia, Art, artista, de, inter, Musica, sito, Video, youtube
Un libro, una raccolta di poesie di Patti Smith, e che entra di diritto nella mia wishlist di Anobii.
Auguries of innocence,Presagi di innocenza,è la straordinaria testimonianza dell'ultima scrittura poetica di Patti Smith.Dai tempi della bellissima raccolta Babel (1978) questa poesia si è in parte allontanata dal tono graffiante e diretto,spezzato e sconnesso,'punk' nella forma e nella sostanza.Almeno all'apparenza si tratta qui di una poesia più 'composta',all'interno della quale le immagini ricorrono a una simbologia martellante più che a un groviglio di sensazioni e frammenti narrativi.Presagi di innocenza è per la Smith anche un irrinunciabile collegamento ad una certa tradizione americana: il suo tribute si compie passando per Blake e Lovecraft (espressamente dichiarati) o per le suggestioni provenienti da Jim Carroll e dalla Plath.
Artista di grande esperienza e sensibilità visionaria, abituata a sperimentareogni possibile commistione di suono e parola per raggiungere la massimaespressività in ogni genere, Patti Smith è "indefinibile per definizione" e hacontinuato negli anni a mescolare l'arte della parola con quella del canto, inmodo quasi magico, incantando nei decenni intere generazioni. Questa raccoltadecreta il suo ritorno alla poesia.
[ad#ad-1]





by

Tags: 5, 5d, america, anobii, app, Art, Arte, artista, auguri, books, de, fini, immagini, inter, lega, Libri, marte, Musica, patti smith, poesia, poeti, raccolta, style, test, wishlist
Durante gli anni '60 l'attore e regista Dennis Hopper aveva una piccola mania: portava sempre con sé una macchina fotografica per immortalare volti e momenti rubati da feste private, set cinematografici, cene e manifestazioni politiche. Ora quelle immagini, per la maggior parte inedite, diventano parte della mostra "Segni dei tempi", fino al 24 ottobre alla Tony Shafrazi Gallery di New York. Celebre attore e regista di origine statunitense, Hopper è conosciuto per le sue interpretazioni, da Gioventù bruciata a Il gigante fino a quell'Easy Rider, del 1969, che segnò per sempre la sua carriera nel cinema. Prima però la grande passione per la fotografia che la mostra di New York celebra per la prima volta. Tra i soggetti rappresentati dall'artista alcuni esponenti della scena culturale americana, da Andy Warhol a Paul Newman, ma anche politica, come Martin Luther King Hunior in marcia per i diritti civili da Selma a Montgomery. Tutte le immagini di questa galleria, in esclusiva per Repubblica.it, sono per gentile concessione della Tony Shafrazi Gallery di New York.
Il volume da collezione Dennis Hopper: Photographs 1961 - 1967 è una novità annunciata dalle Edizioni Taschen.
Sarà un volume in tiratura  limitata a 1500 esemplari autografati dall'autore a presentare una delle più ampie selezioni delle immagini realizzate nel corso degli anni Sessanta.
Photographers.it
[ad#ad-1]





by

Tags: 5, 500, america, app, Art, Arte, artista, Auto, cinema, de, dennis hopper, easy rider, Elezioni, foto, Fotografi, Fotografia, fotografo, galleria, Grafica, immagini, inter, iva, media, momenti, mostra, New York, News, photo, php, Politica, repubblica, ruba, style, text, time
Si è spento Willy De Ville a causa di un tumore al colon, un grandissimo artista oltre che un personaggio.
Denominato anche "il pirata" per la somiglianza, non conosciutissimo in Italia, come artista, mentre uno dei suoi brani piu famosi dal titolo demasiado corazon, è stato scelto come sigla di Zelig.
Un grande artista.
Vi invito a guardare e ascoltare su youtube i video di un suo concerto unplugged tenutosi a Berlino nel 2002.

[ad#ad-1]





by

Tags: Art, artista, Berlino, de, grandissimo, Illy, italia, Musica, personaggi, Video, willy de ville, youtube
Grazie ad un blog che seguo da diverso tempo e che reputo ovviamente molto interessante, ho fatto la piacevole scoperta delle opere di un artista portoghese, Alexandre Farto in arte whils
Scratching the surface, sono tutte composizioni effettuate sbrecciando l'intonaco di vecchi muri, con effetti a dir poco strepitosi.

Ah il blog sopracitato è
artofthestate.co.uk
mentre sul sito dell'atuore si può vedere una galleria di quelli che possono essere definiti tranquillamente capolavori.
Scratching the surface
[ad#ad-1]





by

Tags: 2009, 5, alex, alexandre farto, Art, Arte, artista, Blog, de, fini, galleria, inter, opere, php, scratching the surface, sito, surf, whils, youtube
Damein Hirst, artista inglese ha dipinto una bellissima Harley Davidson modello Cross Bones, con colori sgargianti, con un effetto interessante ed insolito.
Damien Hirst, è stato definito l'artista della morte, per le sue opere che vedevano, squali tigre ed altri animali in vetrina sotto formaldeide, opere che lo hanno portato ad essere uno degli artisti piu quotati al mondo.
Ecco quindi che il valore di questa Harley Davidson, indubbiamente unica, sarà destinato a levitare a cifre incredibili.
Realizzataper beneficenza, andrà all'asta venerdì 23 aprile a Los Angeles, insieme al casco uguale, a favore del Project Angel Food, un ente che si occupa di fornire pasti ai malati colpiti da patologie gravi.
Via artsblog
[ad#ad-1]





by

Tags: 2009, animali, Art, Arte, artista, artisti, Blog, color, colori, damien hirst, de, fini, harley davidson, inter, opere, style, text, vetrina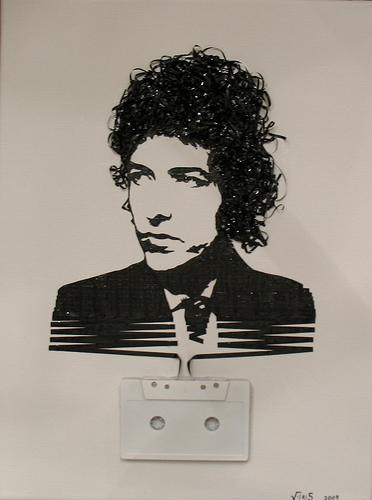 Una serie di opere di un artista, ricavate semplicemente dal nastro contenuto nelle ormai obsolete musicassette.
Ecco allora che prendono forma i volti degli artisti, la cui voce magari stava impressa sul nastro, quasi a come fantasmi.
Originalissimo.
Photo credit iri5
[ad#ad-1]





by

Tags: 5, 500, Art, Arte, artista, artisti, de, Flickr, Musica, opere, photo, style, text, Varie
Si tratta di una installazione di nome Multiverse, messa in atto da un artista, Leo Villareal, e si trova alla National Gallery of Art di Washington.
Un tunnel di 61 metri completamente riverstito da una volta composta da ben 41.000 LED, che si accendono in maniera completamente casuale, creando effetti sempre nuovi e molto belli.
L'installazione rimarrà visibile per tutto il 2009, quindi se capitare da quelle parti…

via
Gizmodo.it
[ad#ad-1]





by

Tags: 2009, 5, app, Art, Arte, artista, color, de, flash, multiverse, National, rai, Viaggi, Video, wave